<![if !vml]>

<![endif]>

If you are trying to build a stronger creative team.
If you are looking for staff loyalty instead of staff turnover.
If you are looking for a team who work together and not against.
Then THE MAGIC OF LAUGHTER is for you.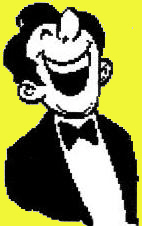 THE MAGIC OF LAUGHTER is a very entertaining and motivating lecture, which will show you and your team how to stop worrying and start laughing again, and if your able to laugh a little, it makes it a lot easier to laugh a lot.
<![if !vml]>

<![endif]>
ERIC G. SUMMONS is a multi-award winning Magical Entertainer and Professional Speaker, with more than 25 years experience.
He has combined his expertise in the World Of Comedy with his extensive knowledge of Stress Relief with a Sense Of Humor and the Healing Powers of Laughter and produced this exciting piece of motivational entertainment which can be enjoyed on stage, in conference rooms, banquet halls or in the privacy of your living room.
<![if !vml]>

<![endif]>
This fun-filled lecture, combines Eric's natural wit and magical talent and will leave you feeling decidedly more positive, with renewed health and vigor. Eric is honestly passionate about how humor has played an important role in his life and after a lifetime of research his presentation will both delight and enlighten. What's important is that it's entertaining. Eric will show you how LAUGHTER is a stimulant that brings out the magic in your mind and counter-balances the trying times.
<![if !vml]>

<![endif]>
What some satisfied clients have to say :-
.....Your versatility, humour and sincerity contributed greatly to the life of the evening and the enjoyment of all.
Lauris Brown - Co-ordinator Charleville Committee.
.....You certainly have a talent for making people laugh.
John Gage - President Australian Prosthodontic Society.
.....Your professionalism and generosity were greatly appreciated, the feed-back on your presentation was positive and enthusiastic and you contributed greatly to it's success.
Jenny Rylance - Organizer Ambiwerra Festival.

<![if !vml]>

<![endif]>

This site is designed and built by Speedy Office & Computer Solutions, Brisbane, Australia and is maximized for a screen resolution of 800x600
Best experienced

Microsoft is a registered trademark and the Microsoft Internet Explorer Logo is a trademark